PPI/e
by
Amalia
I had such a long day today! I went for angklung practice in the morning, followed by an 'election day' organized by the Indonesian Student Association in Eindhoven (PPI/e) to choose a new president.
The election ran a little bit messy in the beginning. Nobody was interested to nominate him/herself to be the President. As a result, there were no candidates at all. So, it ended up with a direct nomination. But each candidate refused to take the tough job. Everyone was frustrated and there was even a talk that the PPI/e would be freeze as no new leader was chosen.
A good friend of mine, Arya, who was the President of PPI/e at that time, was even more frustrated and worried. He had worked so hard to bring the name of PPI/e to the surface and to make the organization a platform for Indonesian students in Eindhoven to gather. If the PPI/e would be inactive, his effort would be so useless. So he delivered an unexpected and spontaneous 'speech' that really stabbed the hearts of everyone in the room. I was so touched. It was a really great one! If I had the guts and time to be the President, I would have nominated myself. But sadly, I didn't. After he delivered the speech, two candidates stepped in and we finally chose the leader :). Congrats Al!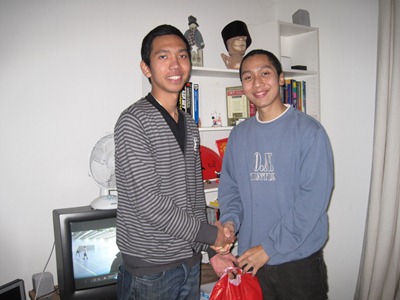 It was such a long event. But it ended with a great dinner and entertaining video! I enjoyed it.