I used to complain about having no girlfriends here in Eindhoven. I'm sure I've written about this a lot in my blog. During my first one year, most of my friends were guys. I'm fine with having them as friends, of course. But they're different than girls, especially in terms of "curhat". Not a lot of guys are good listeners I have to say :P. I also love to have friends to sleep over at my place so we can talk all night long. We can't do that with guys, can we? 🙂
I basically felt so lonely, especially when I was so used to having housemates and roommates for years! It was not until the second and third year that I had girlfriends. But there's always a downside: none of my friends were Muslims or practicing Muslims. I felt extremely lonely during Ramadan because I would usually be the only girl out of all men sitting at the Mosque's dining hall. I didn't feel comfortable at all.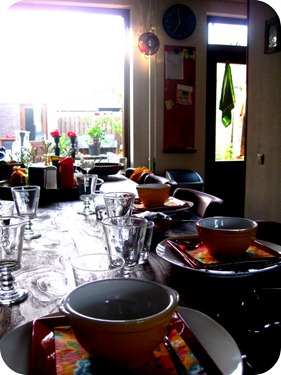 This year's Ramadan is a bit different, though! I met a number of Dutch converts at the Mosque during the ifthar last week. I never met a convert before so it was a great opportunity for me to ask a lot of questions! (it's so me, right?! LOL. Always curious about stuff). I met one of them again during the taraweeh prayer yesterday and one of the girls invited me to her house for ifthar! I would NEVER say no to that wonderful offer hahaha. A free ifthar and a chance to know them better — a once in a lifetime opportunity, right?! 😉
There were 2 other Dutch converts invited (so there were three converts in total). Most of them just converted to Islam for only 1-3 years and what's amazing was that they all wore a hijab! I actually thought that they've at least been a Muslim for 5 years, because wearing a hijab (especially in the time of Islamophobia) was a big thing! But it turned out that they were "early" converts. What's also interesting was that, although two of them were married, they came to Islam because they wanted to, not because of love or any other reasons.
I asked them how their family reacted upon knowing that their daughter was a Muslim. Only one of them had told the family and she said it was very hard for them. She hadn't tell them about the hijab yet — she would do it one step at a time. Please note that Dutch parents are the most "easy going" parents in the world. As long as their children are happy, they'd accept their children's decision. I have a number of friends whose husband converted to Islam due to marriage and their parents didn't object both the marriage and conversion. So I was a bit surprised to know that the family of these girls would not accept their conversion to Islam. They told me that their parents were a practicing "hardcore" Christian and perhaps that's one of the reasons why their parents found it unacceptable. Anyhow…
The host, Jacky, turned out to be a really EXCELLENT chef! She cooked a lot of foods. Not just foods, but DELICIOUS foods. The soup, biryani rice, raita (yum!!!!!), samousa, and some fruit deserts. My stomach were about to explode eating sooooooo much foods!
I had a lot of fun. It was no doubt the best ifthar I ever had in the Netherlands — ever since I arrived here 3 years ago. I start to wonder why all the good things always come during my last year of living here?! But anyhow, we're planning to meet up again during Eid insya Allah! 🙂
Meeting a Muslim convert makes me feel so grateful and blessed that I'm a born Muslim. Often time we take this for granted, don't you think? It's definitely something that we should be grateful about. Having lived in a non-Muslim majority country for more than 7 years, the time has come for me to live in a Muslim-majority country again. Without a doubt, I've enjoyed living here or anywhere in the world. In terms of religion-wise, I've learnt and known Islam much better than if I'd in a Muslim country. But with Islamophobia sweeping across Europe, it's time for me to go back to the country where I can practice my religion freely and where I can wear hijab without being the center of attention. It hurts to constantly hear Islam — my faith and my way of life — to be insulted and ridiculed again and again. Do insult my race or my nationality, but not my religion.
Thank you, ya Allah for always giving me reminders, giving me the best experience of my life, and answering my prayers. I cannot be any happier.