My Own Version of Veggie Lasagna
by
Amalia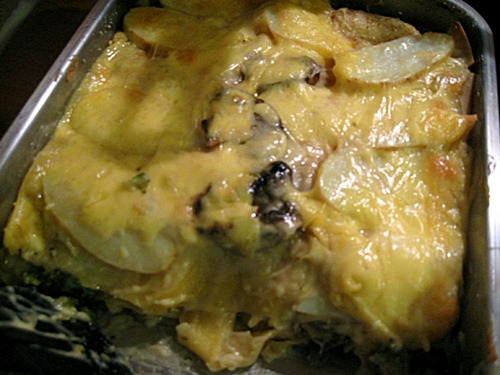 I did a bit of experimenting today. I wanted to make an Egyptian macaroni bachamel (a popular lasagna-like food), but it would involve quite a bit of tasks and would require some pans and dishes (I was too lazy to wash them haha). So I thought of making a veggie lasagna. About two years ago, I was invited to a family dinner of my Dutch friend and his mom cooked this type of baked veggie cheese pasta thing. It was delicious! Ever since that dinner, I had been trying to make it my own, but… you know me?! Always not in a mood of cooking.
So today, I took out all of the ingredients and made this veggie lasagna. I'm not a fan of tomato sauce to be honest, so I used a bachamel sauce instead (which was easy to make). I put some broccolis, potatoes, and mushrooms. I'm a cheese lover, so I put lots of cheese on top (I even put two different cheese hahaha… one of them was parmesan cheese).
Alright, the picture doesn't do it justice. But I assure you, it was delicious! LOL! The broccolis were too overcooked though; because I think I steamed them too long before putting them in the oven. So, next time I'd probably steam them for few minutes. I'd definitely add more varieties of veggies next time… like zucchinis, cauliflowers, etc.
Loving it! 🙂