Pesta Rakyat 2010
by
Amalia
I went to Pesta Rakyat (literally: People's Party), organized by the Indonesian embassy in Den Haag to celebrate our beloved country's independence day from the Netherlands 65 years ago. The event was held in Sekolah Indonesia Nederland (SIN) in Wassenaar (near Den Haag) — closed to the house of the Indonesian ambassador. It was my first time going to the school. I went there with my lovely friend Jessie and her family.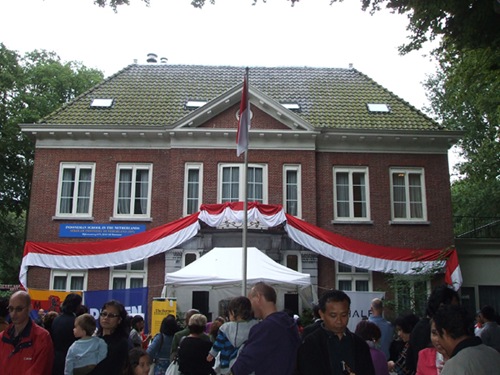 There were a loooot of Indonesians! There were music performances and food stalls which sold many types of Indonesian foods. I spent quite a lot that day! I just wanted to treat myself nice Indonesian foods, although yes, I was in Indonesia less than a month ago! The foods were of course very expensive compared to the ones in Indonesia, but oh well… If you compared everything in Euro then you would end up not buying anything! I bought some sate for 5 Euro and I was surprised that I only got 3 sticks (tusuk) for that many lontong! Talk about suicide, eh?! Then I also had a cup of delicious cendol and nasi rames for dinner. We were there almost the whole day! When we were too bored, Jessie and I went to Scheveningen beach, but we found ourselves not doing anything over there because it was raining!
The weather was indeed terrible. It was raining the whole freakin day! It was an unusual Dutch weather, to be honest. Usually the rain was quite light and there were some pauses in between the rain. But it just didn't stop until late in the afternoon. As a result, many people went back home really early. There were not many people dancing too in front of the stage. They were dancing and holding the umbrella, so you could imagine how ribet it was. The poco-poco seemed fun, but I didn't want to join in because of the rain :(.
But I met my friend Putri today! I was surprised myself but it was a spontaneous meet up! I haven't seen her for months already and it was great to meet her although yes, we needed another meet up to catch up! I also saw an Indonesian singer Delon, whom I had no idea who he was until Jessie's mom told me that he was the winner of Indonesian Idol or something LOL. I took a picture with him, as a proof that I met somebody famous :P. Hehehe. To be honest, he's just okay. Nothing special about him. Not handsome or anything like that. No offence hahaha.
Oh! One thing I forgot to mention is that, there were some people from the RMS (Republik Maluku Selatan) demonstrating in front of the gate of the school, demanding the political prisoner, Johan Teterissa who waved the flag of RMS in front of President Susilo Bambang Yudhoyono, to be released.
After spending our time there for quite a long time, we eventually headed to the house of Jessie's mother's friend. While the elders did some catching up, Jessie and I went to the McDonald's nearby and we had some really nice conversation about the future, Indonesia, the Netherlands' society, and many more! 🙂
We reached home around 12am and I had decided to stay over at Jessie's place. It was a good day. I'm thankful ya Allah 🙂