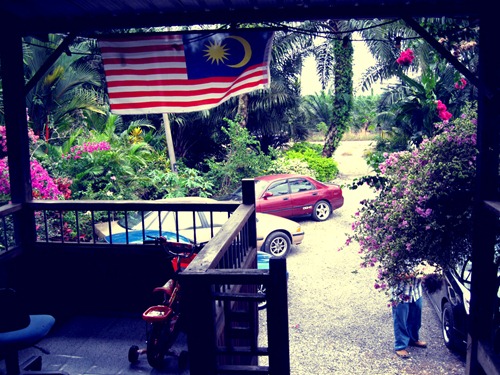 One day, my friend Nabilah asked me if I would like to join the aqiqah of her niece. This would be a great opportunity to meet locals and it would definitely be my first exposure to a Malay culture. So with no hesitations, I immediately said yes.
We drove to the nearby state, Selangor. Her sister's house is located near the city of Klang. The house was in the middle of nowhere. It was in a village (or a kampung, as Malaysians say it). This was my first time going into a traditional Malay house. It was interesting. The house is two-storey. The living  room and bedrooms are located in the upper part of the house. There is another living room in the bottom part of the house, with a slightly lower ceiling. At the back of the house, there's a big kitchen and a bathroom. Just like in Iran, the toilet is located outside of the house.
When we arrived there, we were welcomed with lots of foods, as usual. It was a buffet. They put a tent outside where guests can sit and eat. Apparently, we missed out the actual aqiqah, so we were only there to eat and mingle with Nabilah's extended families. Interestingly, Nabilah's brother-in-law is a Malaysian of Javanese origin. Long time ago, many Javanese people came to Malaysia. Since I can't speak Javanese, I can't really figure out whether their Javanese language is the same as ours — but they can speak Javanese. Nabilah also said that their Malay accent is a bit different, perhaps more medok than the standard one :P.
I really enjoyed being in a kampung. It was very quiet, peaceful, and green. It was a nice escape from the noisy KL. I also forced myself to speak more Malay with Nabilah's family. I really want to master it hahaha. It's easier to mingle with the locals if you can speak their language — even though, yes, Malaysians generally understand Indonesian language just because they watch a lot of our sinetrons.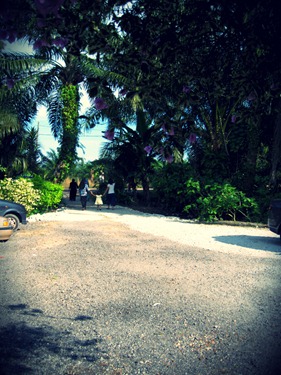 The next cultural experience for me would be the traditional Malay wedding. I was already invited to Nabilah's friend's wedding in September. I'm looking forward to it 🙂
Alhamdulillah for everything 🙂