Angklung Performance @ de Dommel
by
Amalia
Glad it's over! Phew. Finally I can take a rest a little bit. Our performance at the Festival Muziek op de Dommel was the biggest one so far, targeting the Dutch public audience, instead of Indonesians or students. We didn't get to perform at the main stage, but hopefully next year we would be able to perform there!!
On that day, we all gathered in the chapel nearby the festival to do our last rehearsal before our performance. Then we walked from the chapel to the venue.
It was so hot on that day! We were all grumpy waiting for the performance at the main stage to finish. We were behind the schedule.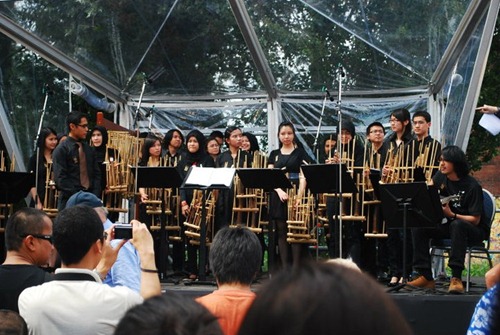 The cutest loyal angklung supporters who never failed to attend the rehearsals right from the beginning 🙂
Conclusion: it was a great performance! I really enjoyed it. The audience seemed to enjoy it too coz we got 2 offers to perform again. Yay!
Photos courtesy of Angga and Xuchen.
Here's the video of one of our performances, playing Sleeping Beauty by Tchaikovsky.
Visit https://www.facebook.com/AngklungEindhoven for more videos!