UQ Centenary Reception in London
by
Amalia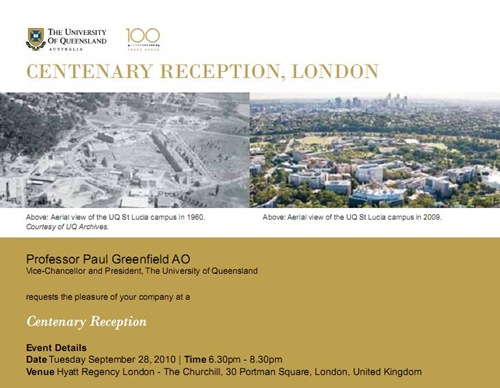 I was sent an invitation to attend the UQ Centenary Reception in London both via post and email. The event will be held to celebrate the 100 years of UQ. Too bad I can't attend the event. The idea of applying a UK visa is already too complicated for me. And I won't be in Europe during that time.
It's just crazy how much money UQ has spent for these centenary events since the beginning of this year! The reception itself has been held in 12 cities in 9 different countries! It was even held in Jakarta, Singapore, Kuala Lumpur, and Bangkok all together. Sadly, I missed all of them and I'll miss another event again.
Things I miss about UQ:
The multicultural friends I had
Pizza Cafe, which served the most DELICIOUS Italian pizza I had ever tested! I couldn't find the replacement of it, yet!
The cozy, quiet, and homey libraries scattered around the campus. My favorite was the Biological Sciences Library.
The ITEE (IT & Electrical Engineering) building! This was the place where I spent my sleepless nights with my project mates, tweaking codes and starring at the computer. My longest record staying in the building was 13 hours straight.
The lake. The parks. The green spaces. The scary birds that attacked my head :D. And definitely, The Great Court!!!
The weekly market which used to sell high quality & sweet strawberries!
Jenn and Mayu, two of my closest friends and housemates during the time when I was in Brisbane 🙂
Happy 100 birthday, UQ!