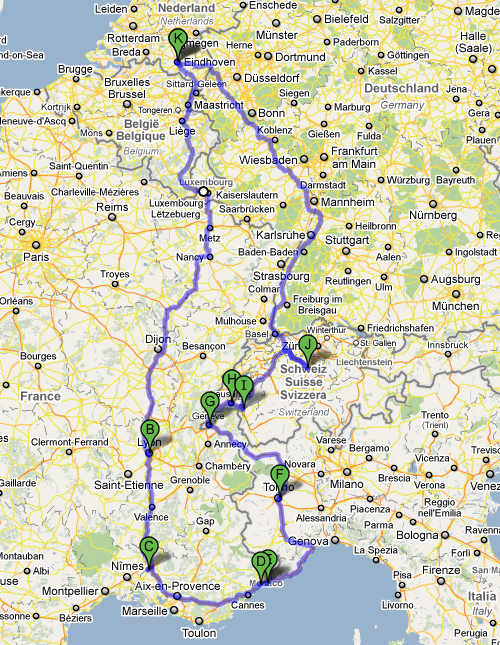 Despite my busy schedule and a 2-hour sleep last night, I can still do this!!! weeeewww!
I've been so grumpy and cranky lately. I can't believe I haven't traveled for 6 months!!! I can't wait any longer. I promised myself not to travel until I graduate, but it doesn't seem to work! I'll end up insane if I don't travel.
My friends and I were planning to do a road trip in Spain, but the flight ticket is so expensive! We've been waiting for more than a month and it doesn't get any lower. So last night, I said to myself: THAT'S IT! Let's change the destination! Let's just drive somewhere!
You know you're so desperate to travel when you open the whole map of Europe and try to pick whatever places to visit. Pasrah? Yep. I just need to get out.
Then my friend suggested  this route shown above. I immediately AGREE with it! Lyon — Nice — Monaco — Torino — Geneva — Lausanne — Montreux — Luzern. The cities are still not confirmed yet, as we're still discussing about it. But I'm so excited already! Finally, I've got something I'm so looking forward to in 2 months time!!! AAAAAAHHHHHHH….
Ok, I need to sleep. Nitey nite!