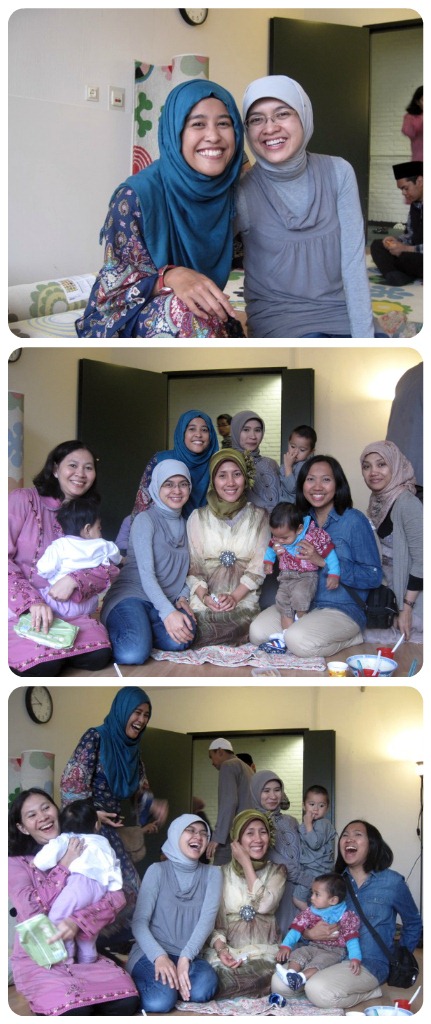 Eid mubarak! Eid saeed! Kullu sanah wa antum bekhair…
It was a great Eid with Indonesian friends and delicious foods! Lontong, gulai kambing, rendang, and so many other foods that I can't remember LOL. I was too busy eating that I forgot to take some pictures of the food itself! 😛 Well, I didn't take that many pictures to begin with. There were many photographers with DLSR cameras so all I needed to do was to pose *kidding*. But these are the only pictures that I took.
I noticed two things about these pictures. One was that I looked soooo thin *panic* and second was that I was the only unmarried single woman there! Hahahaha. These women are my close-knit Indonesian Muslim family :). They make me feel "home" and keep me in check every time. Whether I am in Australia or in the Netherlands, I always make sure that I'm close to at least one family. I love spending with families and playing with their kids. I also like the fact that they keep me grounded and always remind me about certain things. Some of them automatically act as my guardian without being asked and I think that's important — at least for me — to have someone much older than you to rely on, especially when you're confused on two choices or need an elderly or wise advice :).
Anyway, after spending the Eid with them, I spent the rest of the afternoon with my Dutch friends that I met at the mosque. It was an Eid brunch/lunch a la Dutch :). Breads, cookies, cheese, and different kinds of spreads. It was really nice to see them again! I really enjoyed it! Alhamdulillah.