It's been 5 months since we had the last dinner gathering at my house just before the winter break. Since then, nobody was able to organize a gathering and I wasn't able to do it at my house anymore as the landlord asked me to use the attic for the tenants only.
I've also been quite busy socializing with "other groups of people". I think I've been searching for comforts and trying to get away from my loneliness. I'm tired of always complaining how lonely I am, so I decided to get myself out of my comfort zone and explore for some more friends who can make me belong and connected. Except for one or two guys that I'm close with here, I have a hard time socializing with many of the guys here (and they're the majority!).
So I'm glad that I've found some girlfriends that I'm comfortable with. Jessie and Ari are the two girlfriends I've been spending my time with for the past few weeks. We're dubbed the "three musketeers" as we're almost always together! 🙂 We've had endless fun talks and I always enjoy them! I've also been quite close with some friends in Leiden. But as the transport cost between Eindhoven and Leiden is quite expensive, we don't see each other quite often.
Anyhow… back to the gathering! So this time Qonit and Reyhan (the new happy couple!) were the host. They cooked fried rice, kalasan fried chicken, and vegetarian semur. They also served us delicious appetizers, dumplings-like which I really really loved! I gotta find it in a Chinese store soon! Not to mention there were different types of drinks and desserts that we — the guests — brought. Delicious foods and fun gathering!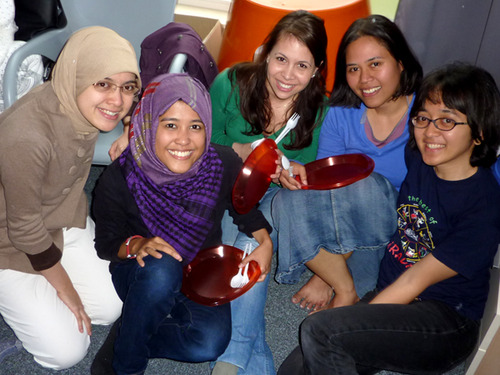 — The girl's corner 😉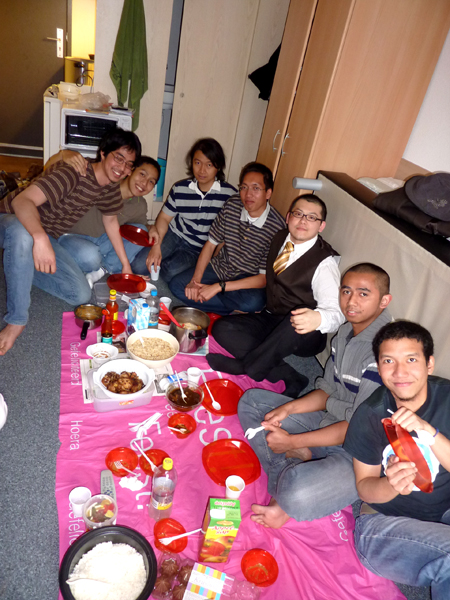 — The guy's corner 😉