Projects
by
Amalia
I've been so busy these days! Too many things to do yet so little time. I'm heading for an uber awesome trip (still a mystery for now ;)) in 9 days time. Yes, you hear me, NINE DAYS! I'm just too excited about it! Wohoooo…
But despite of the excitement, I'm currently super busy with 2 projects. I want to finish them before my trip but I think I can only complete one of them. One of the projects that I've been doing is this: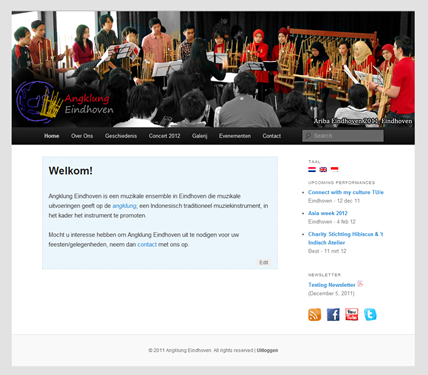 I'm developing a website of Angklung Eindhoven (yes, it can be viewed). Compared to other websites that I've created, I didn't design the template. I focused more on the back-end part (yes, by that I meant that I actually edit some plugins to add more features that suit my needs). The website is almost complete though. I think I can finish it by this week :).
The other project that I involve in is developing an Android tablet application for a restaurant. It's kinda weird to develop this app, since I never actually played or owned an Android phone. But it's been a fun journey! I've been learning a lot of things and I love Android! I'm doubtful that I'd be able to finish this app by next week, but I want some parts of it running, at least.
In addition to those two projects, I have another web development project to be done by next year AND a WordPress plugin related to traveling that is currently under development… which I decided to create for my own excitement. My own excitement?! Yeah, when a geek is bored, he/she would usually resort to coding. LOL.
🙂