Some Familiar Places
by
Amalia
The first three pictures below are the neighborhoods I frequently visited/passed by during my 4 years in Brisbane. And they were all completely under water! This picture was taken when the water hadn't got to its peak of 5.5 meters yet! So, I'm bracing for more awful pictures first thing in midnight (or morning –  Brisbane time).
It's hard breaking to see these pictures! I can't explain how sad it is to see the news every single day.
Of course, this is my favorite picture ever. The statue of Wally Lewis, nicknamed The King, who was ready to go under! I love how the Aussies still have their sense of humor alive during this devastating moment!
The statue is located in front of the Suncorp Stadium, which is already flooded. The whole rugby stadium was filled with water.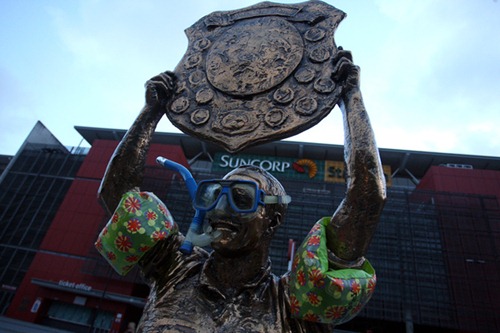 Photos was taken from here. The photo of King Wally was taken from here.